Boardman Residence
Carlisle, MA

Abby Suckle Architect PC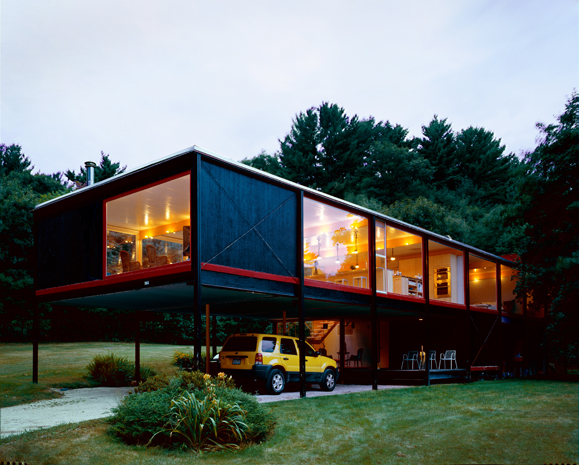 SCOPE

:

Renovation

CREDITS

:

Original Architect:

John Nickols, 1957

AWARDS

:

Boston Society of Architects

Interior Design Citation - 2006

Society of American
Registered Architects

Award of Merit-Renovation- 2006

PUBLICATIONS
+ EXHIBITIONS

:

Dwell 100 Houses We Love

Summer 2010

ArchitectureBoston

Jan 2007

Stir Magazine

Fall 2006

Dwell Magazine

June 2006

Exhibited at BuildBoston

Nov 2006

PHOTOGRAPHS

:

Jason Rogers
DESCRIPTION
This is an interior renovation of a mid-century modern house located in the Boston suburbs. The materials and construction of this steel and glass floating house were very avant garde for 1957 when the house was built, but the house itself was "under the radar". It was not published at the time, and the architect who designed it was not famous. Consequently, the first design challenge was to convince the client that the house was worth preserving and that it could be enhanced.

Since the house was an example of cutting edge architecture in the 50's ASA strove to give the same feel to this reincarnation by specifying simple materials that would not have been available during the initial construction. The firm also reconfigured the floor plan to open up the space and take advantage of the views. This was done in the public space by removing the Kitchen wall and creating a large open kitchen. The Master Bedroom was relocated to the back of the house, with the new wood -burning fireplace on axis from the living room to take advantage of the 24 foot width.

In addition there were many sustainable elements that played a role in this project. Most of the products selected were green such as the bamboo floor, paint. Some were recycled. Others, such as the light fixtures were 'home-made'. Local craftsmen to minimize transport and draw on their expertise.