Spiretec Competition
Noida, India

Abby Suckle Architect PC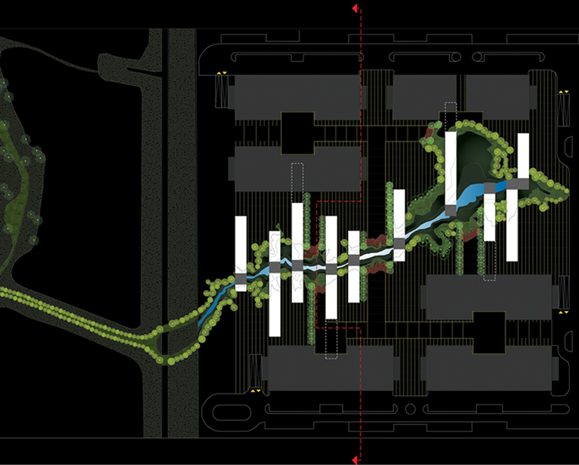 | | | |
| --- | --- | --- |
| SCOPE | : | Design Competition |
DESCRIPTION
The design for Eco-Tech 24/7 competition responds to its surrounding urban conditions: the transformation of the City of Noida as the prime Information Technology corridor, the Yamuna Expressway and the existing site office buildings. It responds to the aspirations of providing a direction for India's approach to the future of technology by setting a standard for world class development with features both global and local. Our proposal creates a modest matt of buildings, sensitively knitting the surrounding IT buildings together into a unified complex becoming an alternative representative interpretation of an icon on the skyline which reflects many aspects of traditional Indian architecture. Public life in India revolves around the street which is why our complex is organized along a vibrant pedestrian street. The River also plays a prominent role in the cultural social and religious landscape of India. Hence, we have reinterpreted the River and the street.

All of the buildings are arranged around a below grade street, an approach often used in very extreme climates to provide natural cooling in summer and insulation in winter. Not only will everyone enter the complex through this street, but social functions like the food courts and retail are aligned along it to enhance the daily life. The Auditorium, for instance is built into the berm; and the open air theater is on the top recalling traditional stepwells.

This is a mainstream green sustainable project that can be accomplished simply and cost effectively. Traditional Jalis, for instance, are used for sun control. Rainwater and grey water from the buildings are filtered to become part of the water feature along the street. Soil excavated from the parking levels will be formed into a berm connected to the one along the Western edge of the site minimizing landfill. This also functions as a green roof planted with native trees and grasses.