Royer Residence
West Palm Beach, FL

Abby Suckle Architect PC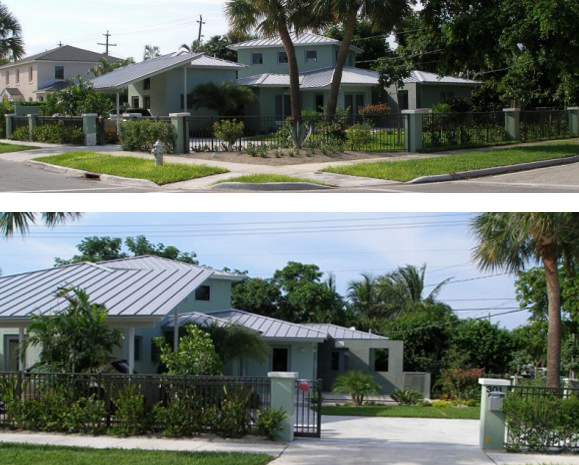 | | | |
| --- | --- | --- |
| SCOPE | : | Addition & Renovation |
DESCRIPTION
This house was originally designed as a small single-story Florida house on a corner lot probably in the 50's. It was sorely in need of updating to transform it from what was probably a seasonal retreat into a year-round home. The new owner is an artist and a therapist; her program entailed adding an art studio and a space for therapy clients to the residence. The house was reprogrammed on the ground floor to enlarge the two bedrooms and baths and expanded with the addition of a second floor art studio placed at an angle in response to the corner site condition and to take advantage of the abundant natural light.
The garage was transformed into a dining room to take advantage of the outdoor terrace and pool, and a carport was added. Since the front door opened directly into the living room, the entry sequence from the carport to the front door was delineated, by creating a stone path over a 'moat' to what became the 'outdoor' foyer.
Public and private spaces were divided by a stone wall which begins in the front yard and continues through the house. It defines a private outdoor space for the Master Bedroom. The original house had exposed wood ceilings; not only were these kept, but the all of the new rooms had exposed wood cathedral ceilings.