Kips Bay Towers Community Room

New York, NY

Abby Suckle Architect PC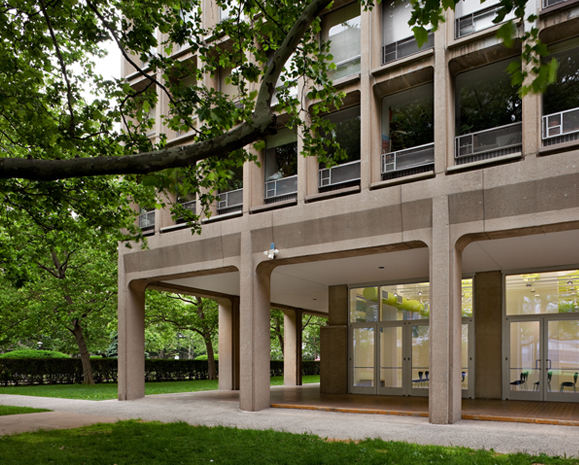 | | | |
| --- | --- | --- |
| SCOPE | : | Interior Renovation |
| CREDITS | : | Abby Suckle Architect PC |
| PHOTOGRAPHS | : | Michael Moran |
DESCRIPTION
Designed in 1961 by I.M. Pei and Partners, Kips Bay Towers is a three block complex consists of two highrise buildings of 1100 apartments with a with a garden between them and parking below. The building designed as low income housing includes many innovative features including the use of concrete as a structural and finish material and the development of a precast concrete facade with large windows. It was IM Pei's first completed building in New York City. At its completion, according to the story, IM Pei wanted to put a Picasso sculpture in the space between the buildings. There wasn't enough money left, so Bill Zeckendorf gave him a choice between commissioning the sculpture and planting the garden. He chose to plant the trees which have grown considerably lush in the past 50 years.

The Community Room is located at the end of the lobby in a space originally designed for 'wheeled toy' storage. Before being transformed into a community room it was used as offices. Surrounded by 8' high brick walls on three sides, the only natural light was from clerestory windows to the arcade outside which made the room quite dark. The simple program consisted of creating a large multipurpose room for the tenants which would be used for events as diverse as meetings, art shows, parties and children's play areas and could also be rented.

The challenge was to create a design that was simple, cost effective and in keeping with the spirit of the extremely innovative and cutting edge design. The design concept consisted of creating a large open space by removing the existing partitions and ceilings, allowing the full nearly 17' height of the space to be visible. The room was also opened up to the garden outside by creating a new wall of glass doors. The mechanical shaft running through the room was left intact. The overhead plumbing lines servicing the apartments above remain visible and are celebrated by being painted green.