DowntownNOW Map
New York, NY

Abby Suckle Architect PC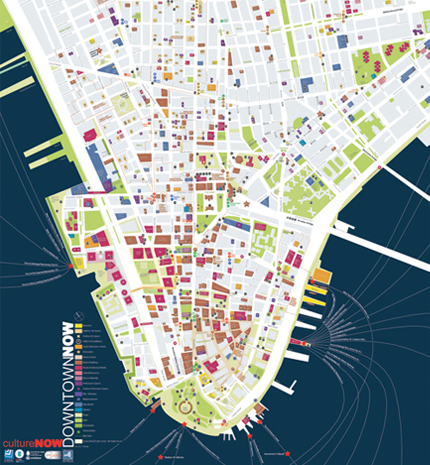 SCOPE

:

Cultural Mapping

500,000 maps were printed

and distributed for free in 5 updated editions

January, June, & Sept, 2002, Sept, 2003 and Sept, 2006.

EXHIBITIONS

:

Columbia University

Graduate School of Architecture Planning & Preservation 2002

COLLECTIONS

:

Permanent Collections

Library of Congress

New York Historical Society

Oklahoma City National Memorial & Museum
DESCRIPTION
The DowntownNOW Map grew out of meetings of the Cultural and Historic Resources Committee of the New York New Visions Design Coalition, the pro bono group of design organizations who came together in the aftermath of 9/11.

The map served four purposes: to enlarge the focus of rebuilding beyond the 16 acres and to see downtown as a true river-to-river community, to call attention to the cultural and historical richness of the area, to get people back downtown so that these small institutions would survive, and to have a single document for planning. Now fully distributed in its fifth edition, it has become a vital resource providing updated, in-depth information, and it has become a snapshot of how the area has been transformed since 9/11.

The map been used widely by everyone from the Mayor, city planners, schools residents and tourists and has focussed attention on using culture as a glue for revitalizing communities. It was instrumental in preserving the historical heritage of downtown as it was the first time all of the various landmark listings in the area were coordinated and illustrated.