The Pamphlet Series
So, You Have Always Wanted to Design a Chair

Abby Suckle Architect PC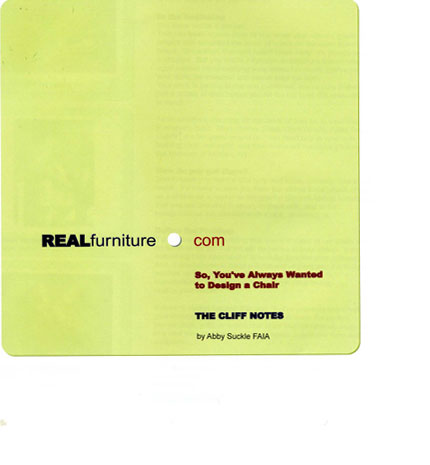 THE PAMPHLET SERIES
SO, YOU'VE ALWAYS WANTED TO DESIGN A CHAIR
The Pamphlet Series are Cliff Notes for Architecture and Interiors. The cribsheets provide tips and tricks to help navigate the challenges that are often problematic and expensive on projects. Designed to be a quick-read, these notes are helpful hints for both architects and clients.

CONCEPT
IN A NUTSHELL

In which the essence of the problem is set out, the goals envisioned, the parameters established, the constraints enumerated and the path defined.


IN THE BEGINNING

You know you're a genius. This has been crystal clear to you since your second grade art project was accorded the place of honor on the class bulletin board. Since then, the road hasn't been easy. It's always been a struggle. But, you made it through architecture school, you got a job without compromising your ideals too much; you've paid your dues, persevered, and you've kept the faith. Your work is getting better and published, you're sure that it's just a matter of time before you hit the big time; the rewards are in reach.

As an architect, the icing on the cake, of course is your chair. Everybody did it. Mies, Corbu, Frank Lloyd Wright, Aalto, Frank Gehry, Zaha Hadid, ... the list goes on and on. You need one in your own building (first, naturally) and then in the not too distant future, the Museum of Modern Art.
HOW DO YOU GET THERE?

Just in case you need a little help and focus, consider this a crib sheet. It's meant to take you from the yellow trace phase of life as a sketch on a napkin to the greater glory of having something that you are proud of to sit on, to pose with and to be recognized as the seminal work that it, obviously, is.


DEFINE THE PROBLEM

If you have a major building that you are about to complete and no furniture on the market will do justice to your atrium, then something truly spectacular is in order to solve your problem. And, if you happen to need a thousand of them and the budget boarders on the realistic...you have hit the jackpot. Manufacturers will be tripping over each other to help you realize your vision.

It doesn't always happen this way. You've probably spent half your lifetime wondering why you've never seen the perfect lounge chair, sofa or ergonomic chair that reinterprets materials in a new way or addresses issues about space and form and sculpture...

You've eaten, you've drunk, and you've taken out your very fat, very thick, favorite soft leaded pencil and done the napkin thing. You've shown it to your loved ones and they have been very encouraging. Well, go for it, and sketch it up...



SIZES OF THINGS
HOW BIG TO MAKE IT

In which the question of scale, proportions and some typical guidelines and 'Rules of Thumb' for furniture are addressed.
SIZES
You now have to figure out how big to make your chair. This is a problem because people come in different sizes, materials come in different sizes, spaces required for different tasks come in different sizes and building modules come in different sizes and, surprise, they are not all the same size. In fact, they often bear very little relation to each other. This is a problem. If you can get all of these factors to come into alignment, you can probably also align the planets given enough time. Few people can conquer everything at once. But you can chip away at them, one at a time. Start with the typical sizes for typical items and build outward.
WHAT HAVE PEOPLE DONE BEFORE?


You can always take the experimental approach. You can look at people and measure them. You can look at existing chairs and measure them. You can look at Graphic Standards and measure that. You can look at guidelines for how big typical things are. This is a lot of measuring, but it does give you ideas...


PROPORTIONS


You can also use furniture to change people's perception of space. Perception is a very subjective thing. The rule of thumb is that usually big chairs seem stronger and take up more space. Some people will tell you that they make them feel more important; others will say that they make them feel smaller. In general, if you think that your atrium is too cavernous, larger scaled sculptural furniture will help offset it.

Conversely, small chairs are more delicate and take up less space. If you have a small room (perhaps that dining room that doesn't really seat the 200 people it is supposed to) and you want it to seem a little larger, it will, provided the chair is small enough.


WHAT IS THE WORST THAT CAN HAPPEN?


The chair does not fit into the elevator. If you can't get it into the room, you will never be able to take a picture of it in the space.



WOOD
WHAT DO YOU MAKE IT OUT OF?

In which the parameters and pitfalls governing the selection of materials are addressed briefly.
IN GENERAL
Inspiration comes from many places. You might have visited a factory, lunched with a sales rep or toured the new Guggenheim Museum and wondered why no one has thought to make a chair out of titanium...Rest assured, somebody probably has considered it. They may just not have known how to take it from there.
WOOD


Wood has an appeal because it is considered a nice warm friendly material which you can play with to your heart's content in your trusty basement shop. It comes in two forms: solids and veneer.


SOLIDS


Solids are typically used for those parts of the furniture like legs, arms and frames that need small strong parts that are easy to shape. Because it is a natural material, it is practically impossible to control the grain and appearance of wood from one piece to the next. Consequently, manufacturers like to use light even grained woods for the legs and arms and stain them darker.


VENEER


Wood also comes as veneers. To get veneers, you sliver a tree. You can do this in lots of ways; each one looks different. Unless you feel like inspecting each piece individually, you will choose a representative sample which may or may not t urn out really be representative. The manufacturer will take veneers, arrange them nicely and sew them together like a quilt with fiberglass tape. Then they are laminated to particle board.

Just because veneers are from the same species, it does not necessarily mean that they will match each other. Techgrain which is what is politely called reconstituted wood solves this problem. Veneers are glued together and cut in the other direction. It's hardly the cheapest thing in the world and doesn't exactly look natural; manufacturers like it because they can have consistent pieces.


WHAT IS THE MOST IMPORTANT THING TO REMEMBER?


Wood salesmen make a lot more money selling wood as veneer than they ever will chopping it into solids. Very large trees are in National Parks and not in showrooms. So, if you design a chair made out of the one large piece of specimen cherry, it will never go into production.



METAL
ONE OPTION

In which the some features and qualities of metals are enumerated.
WHY?
You choose metal when you want something 'hi tech' or machine age, manufactured, strong and very thin. Usually more handcrafted than 'hi tech', you can buy it in a variety of shapes: it could be bar or tube stock, sheets, mesh or cables or you can cast it into shapes and extrude it. As long as you have lots of equipment to weld, grind, bend and polish it will look very beautiful.
THE FAVORITES


Steel is the most refined, the heaviest, most expensive and the hardest to work with. Mies loved it.

Crisper than steel, lighter, not as strong (does this really matter in a chair?) aluminium is easier to cut and bend and harder to weld. Bronze is used more for handrails and hardware than furniture. Every so often, you'll see a piece out of copper or even titanium.


THE MOST SOUGHT AFTER METAL FINISH


Nickel Silver


THINGS TO KEEP IN MIND


Intrinsically, this is not an ergonomic material. Without upholstery, it is not particularly comfortable. You will be lucky if its shape matches yours. It is a bit cool to the touch, a feature welcome in the south where the weather is warm, less so in more temperate climates.

Metal does not take paint very well. No matter how much vinyl they put in the coating, how many primers are used or baked on, or how many layers of nail polish (aka sealers) it is covered with, someone will find a way to scratch it. (Metalworker's secret protective finish: Pledge)

Metal does not like bad weather. It never looks good over the course of time. Keep it inside and no one will complain. Galvanic action takes over if you try to mix different metals and... you make a battery.


THE BIGGEST DRAWBACK


You have to do the drawings.



GLASS AND PLASTIC
TRANSPARENCY AND TRANSLUCENCY

In which the selection and constraints governing the other materials such as glass and plastic are discussed.
WHY
For sheer poetry glass or its less fragile offspring plastic is unsurpassed. Glass is about light, about dematerializing the form and space. Gestures in glass speak more to sculpture and away from ergonomics.
GLASS


Glass breaks. It is rarely used because it is hard to work with. Thinking beyond the coffee table top requires an interest in packing and shipping and... insurance in case the first two don't work out as well as you had hoped.


PLASTIC


The appeal of plastic is that it is very sculptural and pliable. You can look at it or through it. Warmer to the touch than metal, unbreakable, and affordable, it is fairly weatherproof (except it has a nasty habit of yellowing and stiffening with age and sun exposure). But then, who doesn't?


THREE REASONS YOU CAN'T BEAT IT


Factories that make molded plastic furniture tend to be located in Italy. The production of any chair will require many meetings in the factory with the team (including, naturally, you the designer) while it is being debugged for manufacture. There are worse places to convene.

Tooling for the molds that are used to make plastic furniture is extremely expensive, so much so, that prototypes for plastic furniture are always made in other materials first. This means that when the plastic chair is finally manufactured, it inevitably has some production problem that nobody ever anticipated. The corollary is that you can count on a great launch from a manufacturer because he has spent so much time and money on your chair that he needs to sell at least 100,000 to break even.

Spills are easy to clean.



UPHOLSTERY
FABRICS

In which the art of upholstery and choosing the appropriate fabric is addressed as well as a few code pointers.
CLASSIC UPHOLSTERY
Imagine a tennis racquet strung between the frame of a chair. On top of this is a cocoon of progressively denser layers of foam and Dacron covered with fabric. The softer the chair, the more stuff. The more sculptural you want your piece to look, the more you will have to skimp the middle layers. Stretchy fabrics can be glued and cooked onto molded foam seats.
CONTENT


You can choose the fabric by what it looks like, what it is made of, or how it is woven. On a conceptual level, fabrics made out of natural materials cost more and are more fragile than fabrics made out of unnatural ones. To get the best of both worlds, many fabrics will be blends. It is unusual that the same fabric will be appropriate for the Chairman of the Board's Office and a Convention Center.


WHERE DOES IT COME FROM?


Don't think for a minute that the fabric company who's name is one the label is the actual manufacturer. Most likely, your fabric is woven in Europe or in the South.


HOW MUCH FABRIC DO YOU REALLY NEED?


The larger the repeat, the more fabric is required. Manufacturers like to keep it running in the same direction. If you didn't order enough fabric you can always put something else on the bottom of the cushion.


CALIFORNIA 133


Some states have more stringent fire codes than others. Why should it be that a chair in New York should have to conform to less rules than a chair in Boston obviously makes no sense. Do they have more serious fires in Boston? Not likely. What can you do? You can treat the fabric and spray with nonflammable goo- the color can change, it will feel stiffer and will be harder to work with. Currently the miracle material of choice is Nomex which is laminated to the fabric. Other people prefer using special fire resistant foam; this costs more and falls apart over time.


TALKING TO YOUR SPECWRITER


Your Spec Writer will be really impressed if you tell him that: The fabric needs to retain its color (dry crocking Class 4 min, wet crocking Class 3 min), not fade in the sunlight (class 4 at min. of 40 hours), not pill (brush pill ASTM D 3511, Class 3 min.), hold together (breaking strength ASTM D3597-D1682-64 50 pounds min in warp and weft), not pull apart at a sew seam (seam slippage ASTM D3597-D434 25 pounds min) and hold together when it is rubbed (Wyzenbeek- at least 20,000 double rubs).

SELECTING THE MANUFACTURER
GETTING READY

In which the discussion focuses on preparing presentation materials and selecting your Manufacturer.
THE MODEL
No matter how much you want to immediately launch into making a full size prototype of your chair, resist the impulse. Full sized prototypes need to be transported in mini vans. Mini vans are hard to park in New York.
A little beautifully crafted wood or plastic model resting in its own elegant cushioned jewel case is much better to carry around with you to potential manufacturers. In a taxi, it sits on your lap. On a plane, it fits in the overhead compartment. It also leaves much more to the imagination than the full sized prototype ever will. Do you want people to point out everything wrong with it or how it's made to you? Of course not.
CHOOSING YOUR PARTNER WISELY


Think of it as choosing your date for the Prom. If you do it well, you get to be the homecoming queen; if not, you just get an orchid. If you have invented the definitive stacking chair, more power to you. If you choose a company that makes lots of them, they know exactly what they are doing. Tell them that they are cornering the entire market and that they will soon be the Proctor & Gamble of chairs. Expect to learn from their experience. Expect also that the production model of your chair, unique as it is, will bear more than a passing resemblance to what is already in their product line. And know that you will be fortunate enough to receive royalties on the dollies, tablet arms, ganging mechanisms and the upholstered version that will be sold with it.

If you select a company that never made one before, your chair could help them break into the market. Making a chair will be a whole new experience for them. You will join them as they invent the wheel. Every issue will require a meeting. You will end up with a lot of airline miles gleaned from flights which require connections at Midwestern hubs.

However, if you know that your chair pushes the limits of available technology, you are in far better shape dealing with someone whom you think is open-minded. Otherwise, you will barely recognize your chair when it is finally made on the market.



ENTICING THE MANUFACTURER
THE COURTSHIP

In which the art of getting your foot into the factory door and your chair onto the factory floor is addressed.
TAKE YOUR SALES REP TO LUNCH
Unlike your mother who usually tells you that you look great except for your hair, your shoes or... you'll fill it in, a sales rep is trained to be supportive and say nice things. You can get the same high from a sales rep that you can from having your hair done. If it has been raining and you forgot your umbrella, a sales rep will usually commiserate with you and concentrate on complimenting your choice of jewelery or whatever is dry. This is a lot cheaper than having a shrink.
It will have already occurred to you that your trusty sales rep is your first entree into the factory. Call yours and suggest lunch. If you can't carry your scale model to lunch, at least take your drawings.
Your sales rep will say extremely encouraging things about your design and then tell you that she will need to check with her boss, the Vice President of Marketing. When you call back, she will say that the Vice President of Marketing will in turn need to review your chair with the Director of Engineering. Committees will have to convene. All of these take an incredibly long time. Eventually, either because you are the talented creative architect you are or possibly a very large specifier you will be granted an audience.
HOW CAN YOU SHORTEN THE PROCESS


Convince your clients that the world will be a better place if they put 1000 of your chairs in your new building and tell the manufacturer you want to use that another manufacturer is interesting in fabricating them for you.


NO IS NOT NO


"It doesn't fit into our marketing plan".
Marketing plans are based on a combination of what everybody else is selling and what can be gleaned from focus groups. This year, the world is awash in see thru ergonomic chairs and lounge furniture on wheels that hold laptops. Just remember that focus groups are made of people like yourselves who happened to be sitting at their desks the moment that organizer called.

"We can't get the parts".
It is an axiom that all chair parts for chairs that a manufacturer is reluctant to fabricate are made in developing countries and shipped by boat to the factory. All chair parts for chairs that someone wants to make are made by conscientious union employees in the Midwest.



THE FABRICATION PROCESS
THE FACTORY

In which the factory experience will be revealed.
THE MANUFACTURING PROCESS...EXPLAINED
People who deal with machines and manufacturing are primarily interested in utilizing the expensive machinery that they have heavily invested in a way that will not break it and not require them to shop for additional attachments that they never bought to begin with or to consult with the instruction manuals that came with the equipment so that they can fabricate your chair.
All machines have rules. People in factories have spent their lives dealing with the minutia of getting a production line going and getting material through it that matches the samples and then neatly wrapped, and on a truck in an organized and expedient fashion.
When you are informed that the radius can only be a certain amount, it means that your knife edge detail is dead in the water and that you had best rethink the bends. In order to have a success, don't fight the process. Just find out the rules and play the game. If you can design a product that is easy to make, it will happen.
THE PROTOTYPE LAB


One ally who can help you is the Design Department. This is the home of the very creative (and often very young) people who develop and debug the new product. They know how the factory and the equipment works and how to utilize it; they have worked on the winners and the losers and will happily tell you all the war stories.


THE FACTORY TOUR


It is obligatory when visiting a factory to embark upon the factory tour. You will be fitted out as a model for an OSHA brochure replete with safety glasses, nonsnagging fabrics, and earplugs. You cannot safely depend on the factory to have golf carts and scooters even though it might be immediately apparent to you that a factory tour is a good place to work on your marathon training.


THE CNC


The Piece de Resistance of the Factory Tour is... the CNC machine. CNC's are the sports cars of factories. You would have to be a machine connoisseur to be able to tell the difference between models. Remember that more axes and the more positions it has, the better it is. It is a very male macho thing...


A WORD TO THE WISE


First thing in the morning at a factory means 7am. You need to leave the plant no later than 3 pm if you plan to sleep in your own bed by midnight. If you don't like such local delicacies as peanut butter meringue pie, skip lunch.



STANDARDS AND TESTING
HOW STRONG IS IT REALLY?

In which the process of furniture testing is made very simple.
SETTING STANDARDS
Before your chair leaves the factory and goes out into the real world (i.e., introduced at Neocon) it will be tested. Not a lot of people sue the manufacturer if a chair breaks, but some do. But, if something breaks, at the very least, they will want to return it and have it repaired. Congratulate yourself, what is tested is a production model, and not a prototype.
While not a lot of people weigh 500 pounds, the not terribly bright person who elects to sit on your twig chair... well, that chair is history. People sit on chairs. If it is more convenient, they will also stand on them to reach the top bookshelf or change the ceiling light bulb.
SCHOOLS OF THOUGHT


There are two schools of thought concerning the tests that should be performed. Some people think that it is best to take a perfectly fine chair and bash it to oblivion to find out what it takes to achieve failure; to do for the full battery of tests, this you will need about 90 chairs never to be seen again. Obviously, the cost conscious manufacturer would prefer to avoid this approach.

A more modest scenario favored by BIFMA tries to anticipate how much wear would be projected over a ten year period and test for that. Standards are set based on normal projections.


THE TESTS VERY BRIEFLY DESCRIBED


Guess What?
Chairs that move need more testing than chairs that stay still and they are much easier to break.

The Static Tests. Backs need to be firmly affixed to the legs. Legs need to be firmly attached to the seat. The seat should support the arms. Think strength. Think durability.

The Dynamic Tests. These are a batter of cyclically performed tests. Weights are bashed into the seat and the back either straight or at an angle to approximate different ways that chairs can be destroyed over its lifespan. The Life Cycle Tests. These are the endurance tests.


SOLUTIONS


Solutions to testing failures are often simple. Legs can be thickened, stretchers added, glues changed, you'll hardly know.


MARKETING THE CHAIR
LAUNCH

In which the science of bringing your product to the market is addressed.
NEOCON
Like anything else, the deadline of Neocon will determine when your chair will see the light of day. Manufacturers will get serious about manufacturing your chair when they decide that they will need something to exhibit at the trade show. Neocon is in June. Your chair will go into production in late April. Free your schedule, for May will be a busy month for you. Photographs will be taken. More than one prototype will be handcrafted. Literature will be penned. Parties will be planned.
Your presence will be requested for the duration of the trade show where you will be stationed in close proximity to your creation. That way you can explain its subtleties and nuances to all passersby. Try not to grimace when people pick up the prototype of your metal chair and discover that they need the strength of Popeye to move it. Just let them know that it is a prototype and it is not constructed out of the final production materials. If they don't like the color, ask them what colors they would prefer and mention that this one was chosen to complement the new showroom design and will not be the final one for production. The finish has no appeal...ask what does. If they feel that the ergonomics are not right, you're working on it.
Don't forget, you are selling the idea of your chair, not your chair. Your chair will live in its picture format until Christmas at the very least. That is, if the word of mouth is good at Neocon.
WHAT SHOULD YOU WEAR?


Flats.


WHAT HAPPENS AFTER NEOCON?


Your chair goes back to the factory.


WHAT DO YOU GET FOR IT ALL?


About 10 tote bags and a starring role at a party.


WHAT DO YOU DO IF THE MANUFACTURER DECIDES TO LAUNCH YOUR PRODUCT AT WEST WEEK OR DESIGN DAYS?


Take it in its stride. Then register him as an exhibitor for Koln or Milan and give him a lecture about cracking the European Market.



THE MUSEUM
ENTERING THE COLLECTION

In which the issue of entering a museum collection is addressed.
WHAT HAPPENS NEXT?
Your chair is a big success. You know this because the New York Times wants to feature it in an arcticle in the home section about new trends in furniture design. Your manufacturer has called asking if you have thought about a table to go with it. You have been consulted as to how you felt if the finishes were mmodified for a project. You are actually receiving royalties. Professors from a school you have never heard of want you to be on a jury and are willing to pay to fly you there for the event.
YOUR NEXT ASSAULT IS THE MUSEUM COLLECTION


If you are really famous, whatever you do and every sketch that you made to get there will be eagerly snapped up by an audience of aficionados. If not, you might need a little help.


BE A PURIST


A Museum is looking for an icon. Not all museums are looking for the same icons. Should you be making a handmade wenge chair with forged nails, head for the Crafts Museum. If you have a new use for titanium, direct yourself for to the Museum of Modern Art. Fundamentally, your chair is a piece of sculpture. Work on the lines, polish the finishes and save the sketches. You have to be saying something very clearly and very strongly about the materials, manufacturing, form, the world at large in the Millenium and the current state of design for anyone to understand how great it is. You might want to tell people, in case they are not nearly as perceptive as yourself, exactly what it is. So, hedge your bets and write a polemic. It's fun. Keep in mind that people look at chairs in Museums, they don't sit on them.


THINGS YOU SHOULD REMEMBER


Even though it takes nearly as long as to make a chair as it does to make a building, making a chair is a lot cheaper.


WHAT TO WEAR TO YOUR OPENING


Black.


"THE CHAIR" BY THEODORE ROETHKE


A funny thing about a Chair
You hardly ever think it's there
To Know a Chair is really it
You Sometimes have to go and sit





THE PAMPHLET SERIES
SO, YOU'VE ALWAYS WANTED TO DESIGN A CHAIR
The Pamphlet Series are Cliff Notes for Architecture and Interiors. The cribsheets provide tips and tricks to help navigate the challenges that are often problematic and expensive on projects. Designed to be a quick-read, these notes are helpful hints for both architects and clients.