By Their Own Design
Whitney Library of Design, 1980

Abby Suckle Architect PC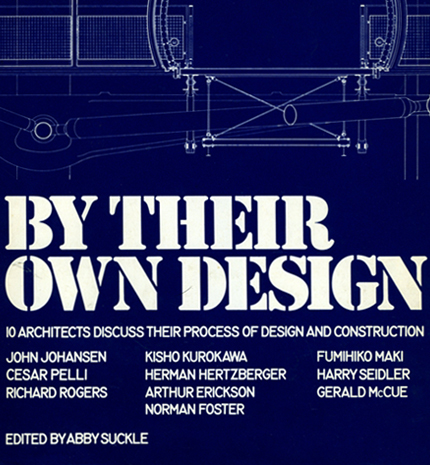 "A building being built is not yet in servitude. It is so anxious to be that no grass can grow under its feet, so high is the spirit of wanting to be. When it is in service and finished, the building wants to say, 'look, I want to tell you about the way I was made.' Nobody listens. Everybody is busy going from room to room.

But when the building is a ruin and free of servitude, the spirit emerges telling of the great marvel that a building was made."

LOUIS I. KAHN
quoted in Architecture + Urbanism; January 1973
INTRODUCTION
For as long as there have been buildings the questions of what they look like and how they are constructed have been almost inseparable issues in the process of creating architecture. While in theory design is completed before construction, more often than not, considerations of available building materials or technologies have a great deal of influence on what is designed.

In the past, traditional methods of construction and available materials usually defined what was possible to design and build, but now, with sophisticated engineering and a vast array of new materials, the choices to be made are numerous. Just what does shape our buildings? The debate is a silent one, a dialogue which each architect conducts between the ideas in his head and the realities of existing construction materials and techniques.

The answers, and there are more than one, lie somewhere in the gray area defined by the two extremes: those who design formally beautiful compositions without any concern for the realities of how they might be built and those who build simply in the most expedient and inexpensive manner without regard for what buildings look like.

The ten internationally known architects represented in this book, all with major buildings to their credit, have each faced these two questions in every building they have designed and built. Each, in turn, describes his own concerns, both artistic and pragmatic, as they relate to the process of designing and constructing one or more of his buildings. The approach of each of these architects differs tremendously: from Norman Foster's space-age technology, so visible in the taut skins of his buildings, to Richard Rogers' mechanistic and structural gymnastics in the design of the Center Beaubourg; from Arthur Erickson's use of structural elements to create powerful sequences of space to Harry Seidler's predominant concerns with exploring various methods of construction.

Others who analyze their own work process include John Johansen, Gerald McCue, Herman Hertzberger, Fumihiko Maki, Cesar Pelli and Kisho Kurokawa.

While it is clear that there is no single answer to the relationship of design and construction, the points of view expressed in this book show just how divergent the possible approaches are. Their words as well as their work are provocative reading for architects, students, and those interested in the built environment.