Armory Art Center
Master Plan
West Palm Beach, FL

Abby Suckle Architect PC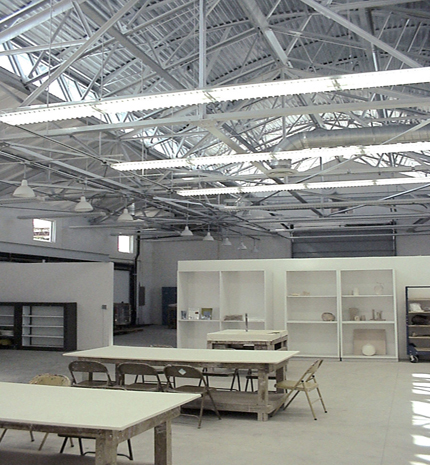 SCOPE

:

Building Renovation

CREDITS

:

Design Architect:

Abby Suckle

Executive Architect:

Noe X. Guerra
DESCRIPTION
The former garage was long used as a storage and part-time studio facility by the Armory Art Center. The project consisted of transforming the space into indoor art studios for the figure sculpture and ceramics programs and an outdoor art studio for stone carving. In order to bring natural light into the studio space, the existing pitched roof was cur and a new clerestory roof structure running the length of the building inserted into the void. This related to the existing historic armory bulding and gave the Art Center a much needed presence from the main street. A small exhibition gallery and support spaces was also provided.
Other noteworthy aspects of the project included the organization of a design charrette involving the design team, the faculty, administrators, and board members.
After the building was completed, Abby Suckle was commissioned to provide a master plan for the ArtCenter.